Some dermatologists recommend patients to cosmetically cover their vitiligo spots. This is associated with an improved quality of life since it reduces public stares or remarks. On the downside, covering up with makeup is time consuming - interfering with daily activities and in some cases, distress generating – the concern of permanently hiding something
These opaque foundations are especially designed to mask skin disorders such as vitiligo and are different from normal makeup.
On the downside, male patients aren't comfortable wearing makeup and might get annoyed by a product rubbing against the shirt collar or cuffs. Other issues include the difficulty to match someone's exact skin tone or the fact the color might wash on water contact.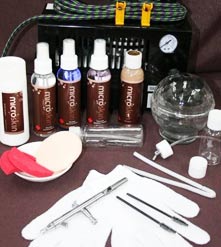 This article will review 5 products used as cosmetic camouflages for vitiligo
Microskin
Microskin is a simulated second skin which is formulated individually to color correct the patient's skin condition. Each shade is customized and regular scans are required (200$) to match your changing skin tone. Once applied, Microskin lasts for a few days. The Microskin system, with training, starts at $670 for sponge application and rises to $2,250 for airbrush application
In a New York Times article about the Mikroskin system, a customer complains about the fact that the spray tends to dry very thick and make his skin feel rubbery.
Microskin's website advertises the product as waterproof and rub resistant.
Cover FX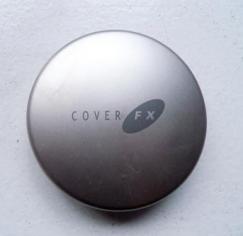 Cover FX offers a 3 step approach to cover vitiligo spots.
First, a preparation (SkinPrep FX) is applied to reduce blemishes, smooth skin and facilitate blending. The CoverFX product is used afterwards, in one of the 17 available tones, finishing off with a Setting FX dusting to reduce the transfer between vitiligo spots and healthy skin.
CoverFX weights 12g / 0.42oz and costs 42$. SkinprepFX weights 1.0 oz and costs 45$. Setting FX weights 13g / 0.43oz and costs 32$
Dermablend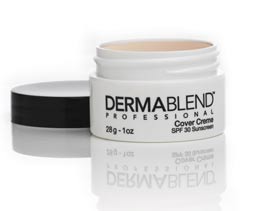 Dermabled proposes a two product approach to camouflaging vitiligo. First, a cover foundation is applied (Cover Creme), followed by a smudge resistant setting powder (Loose Setting Powder). According to the Dermablend website, The  creme comes in 21 skin shades for fair, light, medium, tan or deep skin. It offers SPF 30 UV protection and according to the Dermablend website delivers up to 12 hours of coverage. When used in combination with the setting powder the cream is water and smudge resistant.
Dermabled cover creme weights 1oz and costs 33$. The setting powder is available at 21$
http://www.dermablend.com/skinconditions/vitiligo.aspx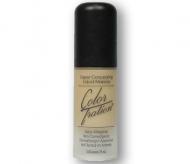 ColorTration
The ColorTration liquid foundation covers vitiligo spots without the need for a powered finish. It is presented in 11 tones from light to dark tan and costs 37$.
For makeup proofing, Colortration offers a barrier spray that ensures it won't rub off furniture or clothing. Unfortunately it's designed for body and leg use only.
http://www.colortration.com/merchant2/merchant.mvc?Screen=PROD&Store_Code=cos&Product_Code=CSCLM&Attributes=Yes&Quantity=1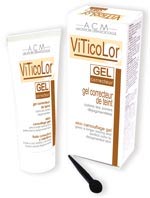 Viticolor
VitiColor is a self-tan gel designed to stain vitiligo depigmented spots. The package contains an applicator brush that is used to apply Viticolor to the center of the depigmented area. The gel is ten drawn in circles to cover the whole affected area. After 8 hours, if the color is too light the gel can be reapplied.
Persons using the Viticolor gel have complained that the color obtained is too dark and not appropriate for light skin tones.
VitiColor Gel comes in a 50ml packaging and costs 31$
https://www.labo-acm.com/en/oxidative-stress-depigmented-skin/57-viticolor-3760095250083.html